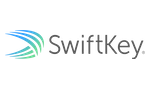 Description
SwiftKey's mission is to make it easy for everyone to create and communicate on mobile - we're best known for our smart keyboard apps that learn from you to make typing on touchscreens faster and easier. We also work directly with mobile manufacturers and worldwide, our technology features on more than 250 million devices. SwiftKey Keyboard for Android was the biggest selling paid app on Google Play in 2013 and 2012 and a No 1 hit in 58 countries, before going free in June 2014 and introducing a SwiftKey Store for optional in-app purchase as well as more than 800 fun emoji!
SwiftKey Keyboard for iPhone, iPad and iPod touch launched on the App Store for iOS 8 devices in September 2014, hitting No 1 in the free app charts in the US and UK and getting 1m downloads in the first day alone.
In addition to our apps learning from you to predict your next words and adapt to the way you type, we're known our language coverage - we support more than 80 languages and you can type in more than one at a time, perfect for multilingual users the world over.
Categories: