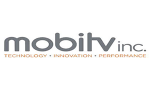 Description
MobiTV is a global leader in delivering live and on-demand video to any screen, connecting media reliably and securely anytime, anywhere, on any device. The company's end-to-end platform delivers a true TV everywhere experience that helps service providers reduce time to market and control costs associated with the deployment and operation of high concurrency, multiple platform services. MobiTV's connected media solutions solve the complexity of delivering video across networks, operating systems and devices while managing associated rights. The company efficiently optimizes for network conditions to deliver multiscreen media services that center on empowering the viewer.
MobiTV's connected media solutions are tailored for IPTV operators, as well as mobile TV and over-the-top customers including AT&T, Deutsche Telekom, Sprint, T-Mobile, TELUS, US Cellular, and Verizon among others.
Founded in 1999, MobiTV, Inc. is a privately-held company with headquarters in Emeryville, CA.
Categories: