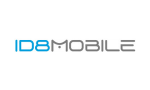 Description
ID8-Mobile is an emerging provider of Ultra-Portable Personal Peripherals for mobile connected devices that enhance and simplify life for the mobile consumer. ID8-Mobile's flagship product line is the MoGo Family of Products.
The MoGo Talk is the world's thinnest Bluetooth headset that stores and charges directly on Smartphones and delivers superior audio quality, perfect for mobile telephony including emerging Unified Communication Applications.
ID8Mobile has been acquired by AAC Technologies
The MoGo Mouse is the award winning ultra-thin, Bluetooth-enabled mouse that stores and charges inside a laptop's PC Card or ExpressCard/54 slot. ID8-Mobile is a Davis Brook Holdings Company.
Categories: