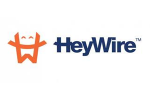 Description
HeyWire, Inc. is the leading enterprise mobile messaging company that delivers secure, mobile-first communications between customers and businesses. The company is a pioneer in bringing cloud texting to customer support 1-800 numbers and business landlines, connecting businesses and professionals securely and reliably with anyone in their business world – inside and outside the enterprise.
Channel partnerships with leading business technology providers extend HeyWire's reach to more than 25 million business people and major call centers, on a cloud platform that handles close to a billion messages per month.
HeyWire recently was recognized by the CTIA with their Mobile Cloud Emerging Technology Award, AlwaysOn Mobile 100 and Global 100 to Watch Winner and the PwC Promise Award.
Categories: