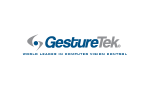 Description
GestureTek is the inventor, pioneer and world leader in gesture recognition technology for interactive advertising, presentation, entertainment and information delivery systems. Our award-winning, multi-patented video gesture control software provides a gesture-based user interface for interactive signs, surfaces, displays, devices and games - eliminating the need for touch-based peripherals such as a touch screen, keyboard, mouse or remote control.
We have installed more than 4,000 award-winning interactive displays on floors, windows, walls, bar-tops, tables and counters, in retail environments, trade shows and exhibits, advertising and digital signage networks, amusement parks and attractions, hotels and nightclubs, corporate locations and public spaces.
GestureTek also offers engaging multi-touch displays, immersive digital signage solutions and Wii-like virtual reality gaming systems that are proven by research to build brand awareness and enhance the customer experience.
Our software and patents are available for license, and are currently used in gesture control televisions, mobile devices, set top boxes and other consumer electronics platforms. Software and patent licensees include Microsoft, Sony, Hasbro, DynaMedia, WSI and NTT DoCoMo.
Selected clients include Samsung, Sony, Panasonic, Intel, IBM, Cingular AT&T Wireless, BMW, Ford, Pattison Outdoor, Inwindow Outdoor, Virgin Megastores, Federal Express, CNN, Sears, Hudson Bay Company, Virgin Megastores and Childrens Place and Gillette.
Testimonial(s)
Categories: